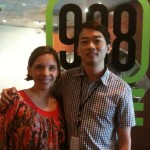 Today I had the great pleasure of speaking with Eugene Loh on his radio program, A Slice of Life, on Singapore's talk radio station, 938LIVE.
We had a wonderful discussion about a lot of pronunciation issues, including the difference between accent and clarity, why modelling a native accent is illogical, if not impossible, what we should focus on when it comes to speaking English clearly, why your pronunciation matters, plus some real examples of pronunciation gone wrong.
It seems like common sense that International English would be used and accepted in international circles, yet still, we strive to achieve a native-English norm. Why is this happening?
Click on the link below to hear my thoughts (approx. 23 min).
What do you think? Do you agree with what I've said? I'd love to read your thoughts in the comments!