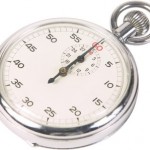 I'm often asked whether how quickly we speak influences how well others understand us. If you speak clearly, speed shouldn't be the reason why people misunderstand. But the problem is, as you speed up, it gets harder for you to speak clearly. If you drop your word endings and everything mumbles together, people might have a hard time understanding you. But, if you're able to maintain crisp enunciation despite your quick pace, your listeners shouldn't have a problem. More important than your speed is how you choose to group (or 'chunk') your words. Make sure that your pauses, no matter how short, are in logical places. You should pause according to your punctuation, after phrases and clauses or in order to emphasize important points.
So what is an average speaking pace? Listen for yourself and see what feels right to you. Which pace do you prefer? In the three recordings below, I've read this passage at three different rates: one hundred fifty words per minute, then two hundred words per minute, and finally two hundred fifty words per minute. Try this exercise by recording yourself reading this passage and then check your timing. This passage is exactly two hundred words.
Speaking Rate: 150 words per minute
Speaking Rate: 200 words per minute
Speaking Rate: 250 words per minute
So, what did you think? Which rate sounds best to you? How did you do when you timed yourself? If you aren't comfortable reading this passage, choose any chunk of text that is 200 words long. To read at a rate of 150 words per minute, you should finish the passage in 1 minute, 20 seconds. 200 words per minute should, obviously, take you one minute, and a rate of 250 words per minute should take you about 48 seconds.